06
Oct
07 octobre 1960: diffusion du premier épisode de Route 66 sur CBS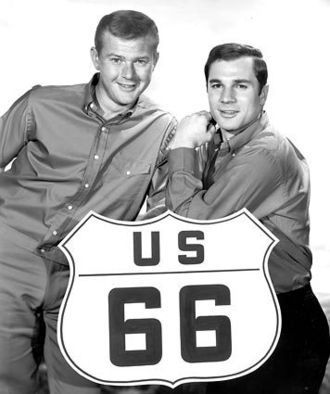 diffusion du premier épisode de Route 66 sur CBS
Route 66 est une série télévisée américaine en 116 épisodes de 52 minutes, en noir et blanc, créée par Stirling Silliphant et diffusée entre le et le sur le réseau CBS.
Au Québec, la série a été diffusée à partir du à la Télévision de Radio-Canada, et en France, en 1996 sur Jimmy.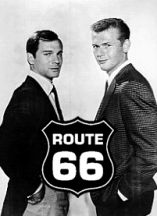 Synopsis
Ce road movie suit le voyage en voiture de deux amis sur la célèbre route 66, de Chicago à Los Angeles.
Chacune de leurs étapes est le théâtre d'aventures et de rencontres inattendues.
Tod et Buzz, deux héros intrépides, parcouraient inlassablement la voie mythique pour y résoudre des enquêtes policières.
Leur monture d'alors n'était autre que la voiture de sport la plus en vogue du moment, la Chevrolet Corvette.
Distribution
La série compte de nombreux invités parmi lesquels : James Coburn, Robert Duvall, Douglas Fairbanks Jr., Peter Graves, Gene Hackman, Steven Hill1, Martha Hyer, Boris Karloff, Buster Keaton, DeForest Kelley, Peter Lorre, Lee Marvin, Walter Matthau, Conrad Nagel, Leslie Nielsen, Robert Redford, Martin Sheen, Rod Steiger, Jack Warden, Tuesday Weld…
Production
Le concept de la série trouve son origine dans l'épisode Four Sweet Corners de la première saison de la série Naked City en tant que backdoor pilot.
George Maharis est absent pour les quatre derniers épisodes de la deuxième saison, puis a quitté la série pour raisons de santé au cours de la troisième saison, après avoir tourné dans les douze premiers épisodes ainsi que le 17e.
Glenn Corbett intègre la série à partir du 23e épisode.
L'épisode A Long Way from St. Louie de la quatrième saison a été tourné à Toronto, au Canada.
L'épisode I'm Here to Kill a King tourné à Niagara Falls (New York) / Ontario durant la quatrième saison autour du thème d'un assassinat possible, était initialement prévu d'être diffusé le (soit une semaine après l'assassinat de John F. Kennedy), mais a été remplacé par un autre épisode et n'a été diffusé qu'en syndication.
Épisodes
Première saison (1960-1961)
Black November

A Lance of Straw

The Swan Bed

The Man on the Monkey Board

The Strengthening Angels

Ten Drops of Water

Three Sides

Legacy for Lucia

Layout at Glen Canyon

The Beryllium Eater

A Fury Slinging Flame

Sheba

The Quick and the Dead

Play It Glissando

The Clover Throne

Fly Away Home: Part

I

Fly Away Home: Part

II

Sleep on Four Pillows

An Absence of Tears

Like a Motherless Child

Effigy in Snow

Eleven, the Hard Way

Most Vanquished, Most Victorious

Don't Count Stars

The Newborn

A Skill for Hunting

Trap at Cordova

The Opponent

Welcome to Amity

Incident on a Bridge
Deuxième saison (1961-1962)
A Month of Sundays

Blue Murder

Goodnight Sweet Blues

Birdcage on My Foot

First-Class Mouliak

Once to Every Man

The Mud Nest

A Bridge Across Five Days

Mon Petit Chou

Some of the People, Some of the Time

The Thin White Line

…And the Cat Jumped Over the Moon

Burning for Burning

To Walk with the Serpent

A Long Piece of Mischie

1800 Days to Justice

City of Wheels

How Much a Pound Is Albatross?

Aren't You Surprised to See Me?

You Never Had It So Good

Shoulder the Sky, My Lad

Blues for the Left Foot

Go Read the River

Even Stones Have Eyes

Love Is a Skinny Kid

Kiss the Maiden All Forlorn

Two on the House

There I Am - There I Always Am

Between Hello and Goodbye

A Feat of Strength

Hell Is Empty, All the Devils Are Here

From an Enchantress Fleeing
Troisième saison (1962-1963)
One Tiger to a Hill

Journey to Nineveh

Man Out of Time

Ever Ride the Waves in Oklahoma?

Voice at the End of the Line

Lizard's Leg and Owlet's Wing

Across Walnuts and Wine

Welcome to the Wedding

Every Father's Daughter

Poor Little Kangaroo Rat

Hey, Moth, Come Eat the Flame

Only by Cunning Glimpses

Where Is Chick Lorimer, Where Has She Gone?

Give the Old Cat a Tender Mouse

A Bunch of Lonely Pagliaccis

You Can't Pick Cotton in Tahiti

A Gift for a Warrior

Suppose I Said I Was the Queen of Spain

Somehow It Gets to Be Tomorrow

…Shall Forfeit His Dog and Ten Shillings to the King

In the Closing of a Trunk

The Cage Around Maria

Fifty Miles from Home

Narcissus on an Old Red Fire Engine

The Cruelest Sea of All

Peace, Pity, Pardon

What a Shining Young Man Was Our Gallant Lieutenant

But What Do You Do in March?

Who Will Cheer My Bonnie Bride

Shadows of an Afternoon

Soda Pop and Paper Flags
Quatrième saison (1963-1964)
Two Strangers and an Old Enemy

Same Picture, Different Frame

Come Out, Come Out, Wherever You Are!

Where Are the Sounds of Celli Brahms?

Build Your Houses with Their Backs to the Sea

And Make Thunder His Tribute

The Stone Guest

I Wouldn't Start from Here

A Cage in Search of a Bird

A Long Way from St. Louie

Come Home Greta Inger Gruenschaffen

93 Percent in Smiling

Child of a Night

Is It True There Are Poxies at the Bottom of Landfair Lake?

Like This It Means Father… Like This - Bitter… Like This - Tiger…

Kiss the Monster - Make Him Sleep

Cries of Persons Close to One

Who in His Right Mind Needs a Nice Girl

This Is Going to Hurt Me More Than It Hurts You

Follow the White Dove with the Broken Wing

Where There's a Will, There's a Way: Part One

Where There's a Will, There's a Way: Part Two

I'm Here to Kill a King
Suite (1993)
En 1993, NBC diffusa une suite de la série sous le même titre, Route 66. Cette suite ne dura que quatre épisodes, avant d'être annulée.