02
Jan
02 janvier 1966: Roger Gale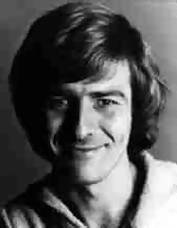 Roger Gale The only pirate DJ to end up helping to run the country was born in Poole, Dorset, on 20th August 1943.
Roger Gale Le seul pirate DJ pour effet d'aider à diriger le pays est né à Poole, Dorset, le 20 août 1943.
Roger studied acting at the Guildhall School of Drama.
Roger a étudié le théâtre à la Guildhall School of Drama.
However, as a descendant of Sir Francis Drake, he was a natural for life at sea and, in August 1964, joined Radio Caroline North, where he stayed until January 1965.
Toutefois, comme un descendant de Sir Francis Drake, il était naturel de la vie en mer et, en août 1964, a rejoint Radio Caroline du Nord, où il resta jusqu'en Janvier 1965.
In June he joined the south ship and became a Caroline "Good Guy".
En Juin, il rejoint le navire sud et est devenu un Caroline "Good Guy".
This was a gimmick borrowed from station WMCA New York.
Ce fut un gimmick emprunté de la station de WMCA New York.
The expression "disc jockey" was no more.
Le "disc-jockey" expression n'était plus.
The broadcasters were now all to be known as "Good Guys" and had to wear their special uniform of blue and white check shirts, grey trousers and yachting jacket, available from all branches of Burton's the tailors! Les diffuseurs sont désormais tous d'être connu comme «bons» et a dû porter leur uniforme spécial de chemises à carreaux bleu et blanc, un pantalon gris et une veste de plaisance, disponible auprès de toutes les branches de Burton les tailleurs! The station was suffering from the competition of Radio London's Top 40 format and this was part of an attempt to update Caroline South's more middle-of-the-road sound.
La station a été souffrent de la concurrence de la radio de Londres Top 40 format et cela faisait partie d'une tentative de mise à jour Caroline du Sud plus moyen de sons-the-road. Unfortunately it did not work and another change in programme policy soon followed. Malheureusement cela n'a pas fonctionné et un autre changement dans la politique du programme ont rapidement suivi. There were staff upheavals and Roger moved on to join Radio Scotland as Programme Director. Il y avait des bouleversements du personnel et Roger est passé à rejoindre Radio Scotland que directrice du programme. He later also helped launch Radio 270 off Scarborough. Plus tard, il a également contribué au lancement de Radio 270 off Scarborough. His theme tune was Horst Jankowski's A Walk In The Black Forest .
Son thème musical a été Horst Jankowski A Walk In The Forêt-Noire . After the pirates, he was a reporter on BBC Radio London and produced Radio Four's Today programme and Radio One's Newsbeat. He then switched to television, working on Thames TV's Magpie .
Après les pirates, il a été journaliste à la BBC Radio Londres et produit du programme Aujourd'hui Quatre Radio One et Radio BULLETIN. Il est alors passé à la télévision, travaillant à la télévision de Magpie Thames. He has been the Conservative MP for North Thanet for many years.
Il a été député conservateur du Nord Thanet depuis de nombreuses années. His web site is at www.rogergale.co.uk (Many thanks to Steve Kirby for providing some of the above information. Photo courtesy of Roger's web-site, reproduced with kind permission.) Son site web est à www.rogergale.co.uk (Un grand merci à Steve Kirby pour fournir certains des renseignements ci-dessus. Photo gracieuseté de Roger de site Web, reproduit avec l'aimable permission.)
Roger Gale presenting the late night Party Time on Radio Caroline South on 18th September 1965. Roger Gale présentant une fin de nuit Party Time sur Radio Caroline du Sud le 18 Septembre 1965. More from this programme here . Plus à partir de ce programme ici .

Recording kindly provided by Sylvan Mason (duration 2 minutes 18 seconds)

Enregistrement aimablement fournies par Sylvan Mason (durée 2 minutes 18 secondes)
Roger Gale on a short clip from an early Radio Scotland programme The Top 50 of 1965 and from a news bulletin on 2nd January 1966. Roger Gale sur un court extrait d'un début de programme Radio Scotland Le Top 50 de 1965 et d'un bulletin de nouvelles le 2 Janvier 1966.

Tape courtesy of Martyn Webster (duration 1 minute 3 seconds)

Bande de courtoisie Martyn Webster (durée 1 minute 3 secondes)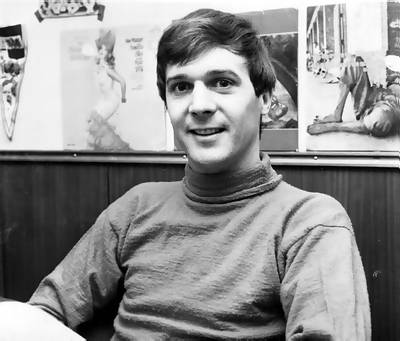 Colin Nicol (originally spelt Nichol) was born in Perth, Western Australia, in the suburb of Buckland Hill, now Mosman Park, on 29 December 1936. Colin Nicol (à l'origine orthographié Nichol) est né à Perth, en Australie occidentale, dans la banlieue de Buckland Hill, maintenant Mosman Park, le 29 Décembre 1936. Colin's first venture into radio was in 1957 with the 6PM network. première entreprise de Colin à la radio en 1957 avec le réseau 18 heures. Becoming top announcer in the state, he moved to the 6KY network in 1960 where he was also programme director. Devenir annonceur haut dans l'état, il a déménagé au réseau 6KY en 1960 où il a également été directeur du programme. He made a name for himself championing many of the new rock'n'roll bands of the time. Il fait un nom pour lui-même champion de nombreux groupes de rock de l 'époque. There was a fascinating article about this period of Colin's life on the Rock & Roll Council of Western Australia web-site. Il y avait un article passionnant sur cette période de la vie de Colin sur le Conseil de Rock & Roll of Western Australia web-site. However this site seems to have closed down or moved. Toutefois, ce site semble avoir fermé ou déplacé. If anyone knows its present URL, please get in touch. Before the site disappeared, the text was cached by Google. Si quelqu'un connaît son adresse actuelle, s'il vous plaît contactez-nous. Avant que le site a disparu, le texte a été mis en cache par Google. We hope the Council's web-master does not mind if we reprint it here , with a few updates. Nous espérons que le Conseil de web-master n'a pas l'esprit si nous le réimprimer ici , avec quelques mises à jour. Like many of his countrymen, Colin decided to set off to see the world and arrived in the UK in early 1963. Comme beaucoup de ses compatriotes, Colin a décidé de mettre hors de voir le monde et est arrivé au Royaume-Uni au début de 1963. A chance meeting with Ken Evans, a fellow Australian who was involved in the launch of Radio Atlanta, led to Colin's recruitment as a disc-jockey in September 1963 - although the station did not go onto the air until the following year. Une rencontre fortuite avec Ken Evans, un compatriote australien qui a participé au lancement de Radio Atlanta, a conduit au recrutement de Colin comme un disque-jockey dans Septembre 1963 - Bien que la station ne va pas à l'antenne jusqu'à l'année suivante. He presented the first full show on Radio Atlanta's day one: 12th May 1964. Il a présenté le premier spectacle complet le jour de Radio Atlanta est l'un: 12 mai 1964. Most of Atlanta's programmes were pre-recorded on land. La plupart des programmes d'Atlanta ont été pré-enregistrées sur la terre. The tapes were then sent out to the ship, the mv.Mi Amigo, where the transmission was taken care of by two Americans, Johnny Jackson and Bob Scott . Les bandes ont ensuite été envoyés à bord du navire, le mv.Mi Amigo, où la transmission a été pris en charge par deux Américains, Johnny Jackson et Bob Scott . After a month these two left. Après un mois de ces deux à gauche. Colin and Bryan Vaughan were sent out to the ship to take their place. Colin et Bryan Vaughan ont été envoyés au navire pour prendre leur place. They were responsible for playing the recorded shows and for presenting the live ones. Ils étaient chargés de jouer les émissions enregistrées et de présenter les vivants. In July Atlanta merged with Caroline and the Mi Amigo became home to Radio Caroline South. En Juillet Atlanta a fusionné avec Caroline et le Mi Amigo est devenue la maison de Radio Caroline du Sud. Colin stayed with the new set-up. Colin est resté avec le nouveau set-up. His theme tune was Find Me A Golden Street by The Norman Petty Trio. Son thème musical a été Find Me A, rue d'Or par la petite Trio Norman. Colin was with Caroline until 1966 when he transferred to the Radio England / Britain Radio team. Colin était avec Caroline jusqu'en 1966 quand il fut transféré à l'Angleterre Radio équipe / Radio-Bretagne. After a few months he moved to Radio Luxembourg, later becoming a BBC staff announcer, working also on BBC World Service and BBC Radio London. Après quelques mois il a déménagé à Radio Luxembourg, avant de devenir un animateur de personnel de la BBC, travaille aussi sur BBC World Service et BBC Radio London. That was followed by five years with the British Forces Broadcasting Service in Malta and Gibraltar. Cela a été suivi de cinq ans avec la British Forces Broadcasting Service à Malte et à Gibraltar. After returning to Western Australia, he ran shopping malls, but also found time to do some part-time broadcasting and lecturing to university media students on a subject he knew well: pirate radio. Après son retour en Australie occidentale, il a couru les centres commerciaux, mais aussi trouvé le temps de faire un peu de radiodiffusion à temps partiel et des conférences aux étudiants universitaires des médias sur un sujet qu'il connaissait bien: la radio pirate. Colin has been a generous contributor to The Pirate Radio Hall of Fame , providing a Caroline North programme schedule from 1965, the 1964 QSL cards below , some photos taken on board the mv Cheeta II in 1966, his memories of joining his last offshore station Swinging Radio England , a tribute to Radio Atlanta investor Kitty Black , an in-depth interview with Atlanta's founder, Allan Crawford, a Radio Atlanta advertising rate card , some photos of the Caroline Good Guys causing chaos at Battersea Fun Fair and more. Colin a été un généreux donateur de la radio pirate Hall of Fame, offrant un programme nord-horaire de Caroline de 1965, de 1964 cartes QSL ci-dessous , quelques photos prises à bord du MV Cheeta II en 1966, ses souvenirs de rejoindre son offshore dernière station Swinging Radio-Angleterre , un hommage à Radio Atlanta investisseur Kitty Black , un examen approfondi entrevue avec le fondateur de Atlanta, Allan Crawford, une radio d'Atlanta publicité carte de tarifs , quelques photos de la Bonne Guys Caroline provoquer le chaos à Battersea Fun Fair et plus. Colin is now busily retired to a southern suburb of Perth. Colin est maintenant occupé à se retira dans une banlieue sud de Perth. He continues with his interest in radio and is in regular contact with radio, entertainment and musician friends worldwide. Il continue avec son intérêt pour la radio et est en contact régulier avec des amis de radio, de divertissement et musicien dans le monde entier. His current major project is to place on record his collection of mementoes from all his activities. Son projet actuel majeur est de consigner sa collection de souvenirs de toutes ses activités. At the same time, he researches local history and writes on that and other matters for local newspapers. (Many thanks to Colin for getting in touch, for all the many contributions and for providing the photo above. Thanks also to his former colleague Colin Berry for correcting the theme tune information.) Dans le même temps, il étudie l'histoire locale et écrit sur d'autres questions et que, pour les journaux locaux. (Un grand merci à Colin pour entrer en contact, pour toutes les nombreuses contributions et de fournir la photo ci-dessus. Merci aussi à son ancien collègue Colin Berry pour corriger les informations thème musical.)
Colin Nicol on Radio Caroline South on 2nd January 1966 as he runs through some of the musical film and stage highlights of the previous year.

Colin Nicol sur Radio Caroline du Sud le 2 Janvier 1966, il traverse une partie du film met en évidence musicale et scénique de l'année précédente.

The audio is a bit muffled and a better quality tape would be appreciated if anyone can provide it.

L'audio est un peu sourd et une bande de meilleure qualité serait apprécié si quelqu'un peut lui fournir. Many thanks however to Ray Andrews for this one (duration 1 minute 56 seconds) Un grand merci cependant à Ray Andrews pour celui-ci (durée 1 minute 56 secondes)


Colin Nicol reading a noon news bulletin on Radio Caroline South in December 1965.

Colin Nicol lecture d'un bulletin de nouvelles de midi sur Radio Caroline du Sud en Décembre 1965. The voice at the beginning of the clip belongs to Graham Webb . La voix au début du clip appartient à Graham Webb .

Tape kindly provided by Geoffrey Snow (duration 4 minutes 24 seconds)

Tape aimablement fournies par Geoffrey Snow (durée 4 minutes 24 secondes)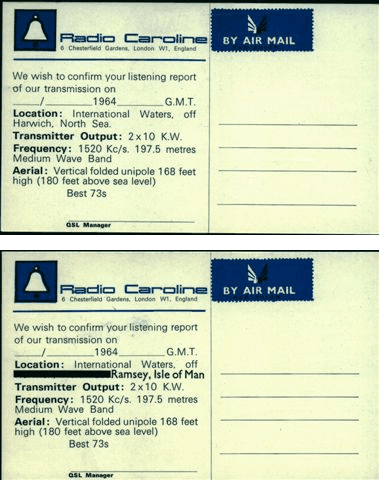 Thanks to Colin Nicol for these 1964 Radio Caroline QSL cards.
Merci à Colin Nicol pour ces cartes QSL 1964 Caroline Radio.