13
Mar
13 mars 1967: Woolf Byrne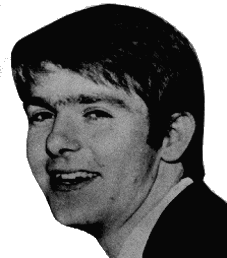 Woolf Byrne
Pendant les années soixante "beat boom" toutes sortes de groupes espoir britannique a publié un seul, puis a disparu sans laisser de trace.
The Manish Boys, from Maidstone in Kent, did only manage to make just the one record but their legacy has lived on, mainly because their singer, Davie Jones, has gone on to greater things.
The Manish Boys, de Maidstone dans le Kent, a seulement réussi à faire juste le dossier autre que leur héritage a vécu, principalement parce que leur chanteur, David Jones, est allé à de plus grandes choses.
He is now better known as David Bowie.
Il est maintenant mieux connu sous le nom David Bowie.
Two other members of the band also achieved fame - as offshore disc-jockeys.
Deux autres membres du groupe a également acquis une renommée - comme offshore disc-jockeys.
Guitarist Johnny Flux and saxophonist Woolf Byrne both joined Radio City.
Guitariste Johnny Flux et le saxophoniste Woolf Byrne ont tous deux rejoint Radio City.
Woolf stayed for three months and was known as "Big Bad Woolf."
He has been in touch with The Pirate Radio Hall of Fame: "Although I was only there three months, it was quite surprising that it lasted that long.
Woolf est resté pendant trois mois et était connu comme The Pirate Radio Hall of Fame "Big Bad Wolf."
Il a été en contact avec: "Bien que je n'étais là que trois mois, il était tout à fait surprenant que cela a duré si longtemps. We worked seven days, then had three days ashore, then worked another week followed by four days off. Nous avons travaillé sept jours, puis avait trois jours à terre, puis a travaillé une semaine, suivie de quatre jours de congé. Most times when I got ashore the boss, Dorothy Calvert (who had taken over the running of the station after the death of her husband Reg ) would fire me - usually for something I had said on air to which she had taken exception. La plupart du temps quand je suis arrivé à terre le patron, Dorothy Calvert (qui avait repris l'exploitation de la station après la mort de son mari Reg ) me le feu - le plus souvent pour quelque chose que j'avais dit sur les ondes à laquelle elle avait pris exception. But when I had not been replaced after the three or four days ashore, I would be offered 'another chance'. Mais quand je n'avais pas été remplacé après les trois ou quatre jours à terre, je serais offert "une autre chance». The final straw came when, after a weekend in Paris, I brought back some Johnny Halliday records and played them on Radio City. La paille finale est venue quand, après un week-end à Paris, j'ai ramené quelques disques de Johnny Halliday et les joue sur Radio City. I didn't ask first, so was out!" Woolf then moved on to Britain Radio and, later, Radio 390. Je n'ai pas demandé d'abord, afin était de sortie! "Woolf passe ensuite à la Grande-Bretagne Radio et, plus tard, Radio 390. He continues: "With the arrival of the Marine Offences Bill, there was a huge scramble to join the shortly-to-be-launched Radio One. Il poursuit: «Avec l'arrivée du projet de loi sur les infractions Marine, il y avait une course énorme pour rejoindre le peu de temps à être lancé Radio One. I didn't even bother to try for it. Je n'ai même pas la peine d'essayer pour elle. Instead, with the help of some useful introductions through another of The Manish Boys, Paul Rodriguez, who had become a record plugger, I worked for a while for the BBC World Service where, as well as broadcasting in English, I was able to make use of my command of German. Au lieu de cela, avec l'aide de quelques introductions utiles par un autre de The Manish Boys, Paul Rodriguez, qui était devenu un fouloir record, j'ai travaillé pendant un certain temps pour le BBC World Service, où, ainsi que la diffusion en anglais, j'ai été en mesure de faire l'utilisation de ma maîtrise de l'allemand. I presented pop programmes and did voice-overs on the German service." A model and actor as well as musician before becoming a disc-jockey, Woolf has continued to act and frequently features in films and on television, including episodes of BBC Television's Silent Witness
(See the Internet Movie Database ).
Woolf can also be heard on commercial voice-overs. For recent pictures of Woolf, see the Radio London web site and the Offshore Radio Guide .
(This photo dates from Woolf's time with the World Service. He has also very kindly sent us this great picture taken in the Radio City studio. Many thanks to Woolf for writing and for providing the photos.)
a short clip of Woolf Byrne on Radio 390's Morning Melody programme from 13th March 1967. The recording is from a cassette originally issued by CM Leisure Sales but now available from GJB Sales and used with kind permission. If anyone can provide a more extensive recording of Woolf please contact The Pirate Radio Hall of Fame . Many thanks to Lynne Sims for passing on this tape from the Martin Lynch collection (duration 36 seconds)