25
Dec
25 décembre 1966
 
Tony et Mike Windsor Lennox parle de la fête de Noël à bord du navire Radio Londres.
Le clip TW est de Jumbo Records "The Wonderful Radio London CD Story et Mike Marshall est extrait de RBL's Sounds From The Seas cassette (durée 1 minute 47 secondes)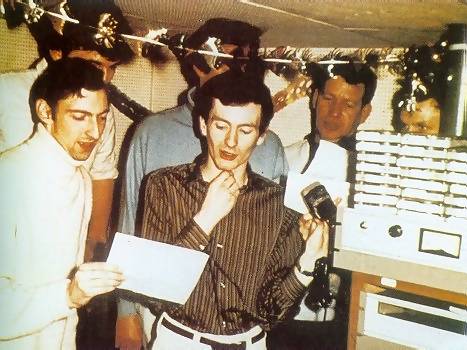 Keith Skues , Kenny Everett et Chuck Blair fête de Noël sur Radio Londres.
Photo courtesy of Offshore Echo's. Photo gracieuseté de Offshore Echo.
From Dave Hawkins's photo album (click to magnify) - Dave Hawkins album photo (cliquer pour agrandir)

De gauche à droite: Richard Administrateur Swainson, ingénieur Dave Hawkins, Ed Stewart , Kenny Everett, ingénieur Russ Tollerfield, l'intendant du navire Mich, Mike Lennox, Tony Windsor et le capitaine Buninga fêter Noël 1966.
For more of Dave's photos, click here . Pour plus de photos de Dave, cliquez ici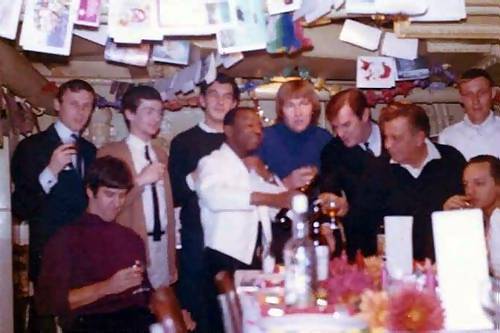 Similaires line-up de la photo, sauf Dave Hawkins a disparu et le chef "Pancake John» peut être vu derrière le capitaine avec une personne non identifiée en face de lui.
With thanks to Duncan Johnson for his help with the identification. Avec nos remerciements à Duncan Johnson pour son aide à l'identification.
Pour voir des photos de Noël plus, prises sur la radio de Londres, voir l'album photo de Mitch 
Bien sûr, il n'était pas seulement le disc-jockeys qui ont été séparés de leurs proches à Noël.
The crew members were also away from home.
Les membres d'équipage ont également été loin de la maison.
Many of them took the opportunity to send messages over the air.
Beaucoup d'entre eux a eu la possibilité d'envoyer des messages sur les ondes.

Steve Young a fourni ce menu de Caroline du Sud en 1966 le dîner de Noël.
Steve says: "Our Dutch chef went overboard (in a sense) in order to create this fabulous meal." 
  Steve dit: «Notre chef néerlandais est allé à la mer (dans un sens) afin de créer ce fabuleux repas."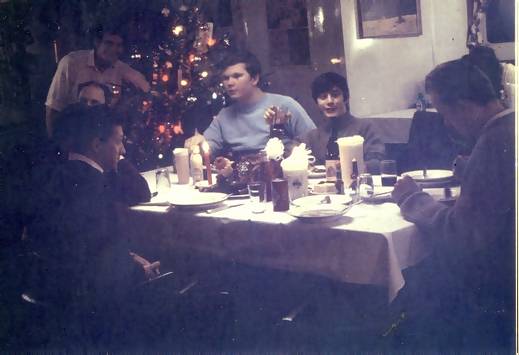 Noël '66 du Nord Caroline.  
Sitting on the left in a blue jumper, engineer/DJ Bob Read, next to him, facing the camera, is Tony Prince .  
Assis sur la gauche dans un ingénieur bleu cavalier, / DJ Bob Read, à côté de lui, face à la caméra, est Tony Prince .
Photo copyright and courtesy of Caroline engineer Mike Wright. Photo copyright et la courtoisie de Caroline ingénieur Mike Wright.

Dave Lee Travis on the Christmas Day 1966 edition of The Caroline Countdown with some of the Dutch crew-members on Caroline South.
Dave Lee Travis sur le jour de Noël édition 1966 du Compte à rebours Caroline avec certains des membres de l'équipage néerlandais sur Caroline du Sud.
This recording is from Martin Lynch's collection and has been kindly donated by Lynne Sims (duration 2 minutes 24 seconds)
Cet enregistrement est de la collection de Martin Lynch et a été gracieusement offert par Lynne Sims (durée 2 minutes 24 secondes)


The disc-jockeys would sometimes produce Christmas "pantomimes" to go with their festive programmes:
Le disc-jockeys se produisent parfois de Noël "pantomimes" pour aller avec leurs programmes festifs:


1966 was the year of the Batman television craze and the Caroline presenters gleefully jumped on the Bat-bandwagon.

1966 a été l'année de l'engouement pour la télévision Batman et les présentateurs Caroline joyeusement sauté sur le Bat-train en marche.

the first part of Batman's Christmas Caper starring Mike Ahern , Dave Lee Travis and the rest of the Radio Caroline South disc-jockey team.
la première partie de Batman Christmas Caper avec Mike Ahern , Dave Lee Travis et le reste de la Caroline du Sud disc-jockey équipe de Radio.
The clip is from the CD The Legend Lives On produced by Hans Knot and released by Stichting Media Communicatie (duration 2 minutes 3 seconds)
Le clip est à partir du CD The Legend Lives On produite par Hans Knot et publié par Stichting Communicatie Media (durée 2 minutes 3 secondes)

Keith Hampshire remembers: "The part of The Commissioner was played by Bob Larkins (newsreader) and the part of The Mayor was played by yours truly.
Keith Hampshire se souvient: «La partie de la commissaire a été joué par Bob Larkin (présentateur) et la part du maire a été joué par votre serviteur.
This brilliant production was conceived and written by Bob Larkins, who I believe had worked at one of the major motion picture companies in London.
Cette brillante production a été conçu et écrit par Bob Larkin, qui, je crois qui avaient travaillé à l'une des grandes compagnies cinématographiques à Londres.
DLT was in charge of production."
DLT était en charge de la production. "


Radio City also produced a panto that Christmas.
Radio City a également produit un panto que Noël.
Written by Ian MacRae , it was a spoof of Alice In Wonderland , featuring the adventures of one Marjorie Poopdeck. Écrit par Ian MacRae , il a été une parodie de Alice In Wonderland, mettant en vedette les aventures d'un Marjorie Poopdeck.
Asked for his recollections, 36 years later, Ian says: "I remember there was a lot of ad-libbing going on between Alan Clark and myself.
Interrogé sur ses souvenirs, 36 ans plus tard, Ian dit: «Je me souviens qu'il y avait beaucoup d'ad-libbing en cours entre Alan Clark et moi-même.
If you'd seen the crap gear we had to record it onto, you wouldn't believe it!
Si vous aviez vu le train d'la merde, nous avons dû l'enregistrer sur, vous ne le croiriez pas!
I do recall that nobody at the London office had any idea of what we were planning.
Je me souviens que personne au bureau de Londres n'avait la moindre idée de ce que nous avions prévu.
We just did it.

Nous avons juste fait.

We were quite nervous as to what the reaction would be when we got ashore.

Nous étions très nerveux à ce que serait la réaction quand nous sommes arrivés à terre.

Luckily all was OK."

Heureusement, tout était OK. "

senior DJ Tom Edwards' on-air singing debut. 
The other voices heard on the clip are those of Ian MacRae and Adrian Love .
Les autres voix entendue sur le clip sont ceux de Ian MacRae et Adrian Love .
The recording is from RBL (duration 3 minutes 8 seconds)
L'enregistrement est de RBL (durée 3 minutes 8 secondes)
Sur la Grande-Bretagne Radio, marié disc-jockeys avec les familles ont reçu de Noël, en laissant le gars à l'homme seul le navire.

Ted Delaney , on a pre-recorded Christmas Day programme, thanking his colleagues who are still at sea while he is enjoying the time at home with his family (duration 1 minute 38 seconds)
Ted Delaney , sur une-enregistrés le jour de Noël programme de pré, en remerciant ses collègues qui sont encore en mer alors qu'il connaît le temps à la maison avec sa famille (durée 1 minute 38 secondes)

Phil Martin , still on the ship, presenting one of the live Christmas Day shows (duration 1 minute 58 seconds)
Phil Martin , toujours sur le navire, présentant l'un des spectacles de Noël Day live (durée 1 minute 58 secondes)
Les deux enregistrements de courtoisie La Radio Archives Offshore .


On Caroline North too, the DJs on shore leave had left recorded messages to be played on Christmas Day.
Sur Caroline du Nord aussi, les DJs en congé de terre avait laissé des messages enregistrés à jouer le jour de Noël.


Tony Prince, on the air on Christmas morning, reading his cards and playing messages from a couple of his colleagues lucky enough to be at home for the holiday season.
Tony Prince, sur l'air le matin de Noël, la lecture de ses cartes et à diffuser des messages à partir d'un couple de ses collègues la chance d'être à la maison pour les Fêtes.
Tape courtesy of Paul de Haan (duration 5 minutes 7 seconds)
bande de Paul de Haan (durée 5 minutes 7 secondes)


On Radio London Paul Kaye saw in 1967 with a recap of the station's achievements during the previous twelve months.

Sur Radio Londres Paul Kaye a vu en 1967 avec un résumé des réalisations de la station au cours des douze mois précédents.


Paul, along with an assortment of pop stars and fellow DJs, wishing every one a Happy New Year.
Paul, avec un assortiment de stars de la pop et de DJs collègues, souhaitant à tous une Bonne et Heureuse Année. From Jumbo Records' The Wonderful Radio London Story CD (duration 1 minute 38 seconds)
De Jumbo Records "The Wonderful Radio London CD Story (durée 1 minute 38 secondes)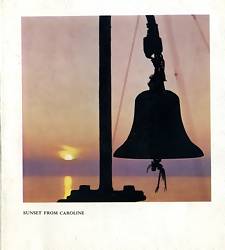 Le front d'une carte de Noël de Radio Caroline.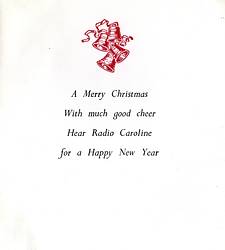 Intérieur de la carte.
Both scans courtesy of Mike Wright.
Les deux scans gracieuseté de Mike Wright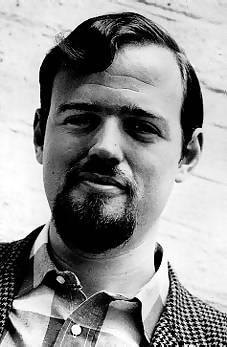 Jack Curtiss
Né le 16 Juin 1943 à San Francisco, en Californie, Jack avait travaillé pour l'agence de nouvelles UPI avant d'entrer dans la radio.
He broadcast on stations KMPX, KWG and KONG, all in California, as well as WROV in Roanoke, Virginia, before heading for Europe. Il diffusés sur les stations KMPX, KWG et KONG, tous en Californie, ainsi que WROV à Roanoke, en Virginie, avant de partir pour l'Europe. He joined the Britain Radio / "Swinging" Radio England operation in July 1966. Il a rejoint le Radio-Bretagne / "Swinging" Radio-Angleterre en Juillet 1966. Initially he was expected to broadcast as "Bruce Wayne". Au début, il était prévu de diffuser en tant que "Bruce Wayne". This, of course, was the name of Batman's secret identity. Ceci, bien sûr, était le nom de l'identité secrète de Batman. The Batman TV craze was big at the time and Radio England had just bought a set of Batman jingles. L'engouement était grand Batman TV à l'heure et Radio Angleterre venait d'acheter un ensemble de jingles Batman. Jack was not impressed: "They told me I would go on the air with this nifty jingle as 'Bruce Wayne'. Jack n'a pas été impressionné: "Ils m'ont dit que je devrais aller sur l'air avec ce jingle sympa comme« Bruce Wayne. I did for one or two programmes and then told management that I had not abandoned a job I liked very much in Virginia and crossed the Atlantic in order to disappear under some bogus fad jingle and that I'd sooner head back to the States. Bill Berry, who arrived the same weekend I did, likewise refused to continue on the air as 'Dick Grayson' (Robin). J'ai fait pour une ou deux programmes, puis dit à la direction que je n'avais pas abandonné un travail que j'aimais beaucoup en Virginie et a traversé l'Atlantique pour disparaître dans certaines jingle engouement faux et que je préférerais la tête en arrière vers les États. projet de loi Berry, qui sont arrivés le même week-end que j'ai fait, a également refusé de continuer sur l'air de «Dick Grayson (Robin). I subsequently transferred over to Britain Radio and I seem to recall the Wayne jingle being used very briefly by Boom Boom Brannigan before he settled down as B-B." He was not the last Bruce Wayne though. J'ai par la suite transférés à la Grande-Bretagne Radio et je me souviens de la Wayne jingle utilisé très brièvement par Boom Boom Brannigan avant qu'il ne s'installe que BB. "Il n'était pas le dernier Bruce Wayne bien. Someone else used the name during the last few weeks of the station. Quelqu'un d'autre a utilisé le nom au cours des dernières semaines de la station. Jack moved over to Britain Radio full time and was promoted to General Manager in November that year. Jack propose à l'Angleterre Radio à temps plein et a été promu Directeur Général en Novembre de cette année. When Radio England closed down, he set up the Dutch station, Radio Dolfjin, that replaced it. Lorsque Radio Angleterre fermé, il a mis en place la station néerlandaise, Radio Dolfjin, qui l'a remplacé. In early 1967 Britain Radio was taken over. Au début de 1967 la Grande-Bretagne Radio a été reprise. A new Managing Director, Ted Allbeury , arrived from Radio 390 and he relaunched the station under the new name of Radio 355. Un nouveau directeur général, Ted Allbeury , arrivé de Radio 390 et il a relancé la station sous le nouveau nom de Radio 355. There was little love lost between the two and Jack, who had been quoted in the press making derogatory remarks about 390's "stone age" format, resigned. Il y avait peu d'amour perdu entre les deux et Jack, qui avait été cité dans la presse faisant des remarques désobligeantes sur les 390 "âge de pierre" format, a démissionné. He returned to San Francisco and became programme director of KFOG-FM radio. Il est retourné à San Francisco et devient directeur des programmes de radio KFOG-FM. He did a similar job for two other San Francisco area radio stations before moving to Puerto Rico in December 1968. Il a fait un travail similaire pour les deux autres stations de radio de San Francisco zone avant de passer à Puerto Rico en Décembre 1968. He stayed on the island for five years, working in radio, TV, magazines and newspapers. Il est resté sur l'île pendant cinq ans, travaillant pour la radio, télévision, magazines et journaux. In 1974 he moved to France to work as a radio correspondent for CBS news and was also heard on Radio Netherlands and the Voice of America. En 1974, il s'installe en France pour travailler comme correspondant de la radio pour les nouvelles de CBS et a également été entendu sur la radio néerlandaise et la Voix de l'Amérique. In 1978 he joined VOA full-time as Latin America Bureau Chief. En 1978, il rejoint VOA à temps plein que l'Amérique latine chef de bureau. This led to Jack becoming Latin America correspondent for ABC News. Cela a conduit à devenir Jack Amérique latine correspondant de ABC Nouvelles. In 1982 he returned to the USA and settled in Florida. En 1982, il retourne aux États-Unis et s'installe en Floride. He was Health and Science Editor for WTVJ-TV in Miami before helping set up a public television bureau in Broward County, Fort Lauderdale for WPBT-Channel 2. Il a été la santé et des sciences Sous la direction de WTVJ-TV à Miami, avant de participer mettre en place un bureau de la télévision publique dans le comté de Broward, Fort Lauderdale pour WPBT-Channel 2. He then worked as a writer and media consultant in south Florida but, in April 2004, we heard from Jack: "I am no longer in Florida. Il a ensuite travaillé comme scénariste et consultant en médias dans le sud de la Floride, mais, en avril 2004, nous avons entendu de Jack: «Je ne suis plus en Floride. I left the Sunshine State last month after 23 years and headed west straight back to my home state of California where I spent 12 nostalgic hours on the ground before boarding Qantas for my final destination. J'ai quitté le «Sunshine State» le mois dernier après 23 ans et vers l'ouest vers l'arrière à mon pays d'origine de la Californie où j'ai passé 12 heures nostalgique sur le terrain avant de monter à Qantas pour ma destination finale. I am now in South Australia preparing to make a lovely Adelaide lass my wife. Je suis maintenant en Australie du Sud s'apprête à faire une belle jeune fille Adélaïde ma femme. It was she, by the way, who orginally made me aware of The Pirate Radio Hall Of Fame back in December 2001. C'était elle, en passant, qui m'a fait prendre conscience orginally de la Radio Pirate Hall Of Fame en Décembre 2001. I am working up a new internet journalism project." In November 2004 we received an update from Jack: "Been meaning to drop you a line just to let you know I did get married in June and am deliriously happy with my bride." (Many thanks to Jack for getting in touch and congratulations on the wedding. He has also kindly provided some fascinating items of pirate memorabilia . There is also a recent photo taken with his old Britain Radio colleague Harry Putnam , here .) Je travaille un journalisme internet nouveau projet "." En Novembre 2004, nous avons reçu une mise à jour de Jack: eu l'intention de vous écrire une ligne juste pour vous dire que je ne me marier en Juin et je suis fou de joie avec ma fiancée (. " Un grand merci à Jack pour entrer en contact et félicitations pour le mariage. Il a aussi aimablement fourni certains éléments fascinants de souvenirs pirate . Il ya aussi une photo prise récemment avec son ancien collègue de Radio-Bretagne Harry Putnam , ici .)

A very short recording of Jack wishing the listeners of Britain Radio a Happy Christmas in 1966.

Un enregistrement très peu de Jack qui souhaitent les auditeurs de Radio-Bretagne un joyeux Noël en 1966. This clip is from a recording of a Phil Martin Morning Serenade programme available to members from The Offshore Radio Archive (duration 21 seconds) Ce clip est à partir d'un enregistrement d'un programme de Phil Martin Matin Sérénade à la disposition des membres de la Radio Archives Offshore (durée 21 secondes)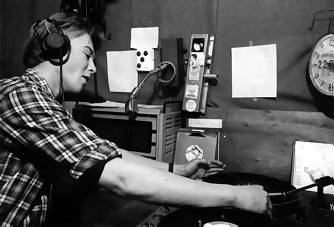 Guy Hamilton From Woodford Green, Essex.  
Guy Hamilton De Woodford Green, Essex.  
While still at school, Guy sent a demo tape to his local pirate Radio Essex. Alors qu'il était encore à l'école, Guy a envoyé une cassette démo à son local pirate Radio Essex. In July 1966, at the age of 18, he joined them with no previous broadcasting experience. En Juillet 1966, à l'âge de 18 ans, il les rejoint sans expérience de radiodiffusion précédente. Life on the Knock John Fort, Radio Essex's home, was fairly basic but it was all good training. La vie sur le Fort Knock-Jean, la maison de Radio Essex, était assez basique mais tout cela était une bonne formation. Guy stayed as it changed name to BBMS (Britain's Better Music Station) but when the pay cheques started bouncing it was time to move on. Guy est resté comme il change de nom pour BBMS (Grande-Bretagne de la meilleure musique de la station) mais quand les chèques de paye commencé rebondissement qu'il était temps de passer à autre chose. He joined Radio 270 just before Christmas 1966. Il s'est joint à Radio 270, juste avant Noël 1966. He was known as "Wise Guy" and ended each show with "TTFN" ("Ta-Ta For Now"). Il était connu comme "Wise Guy" et finit chaque spectacle avec "TTFN" ("Ta-Ta For Now"). His theme tune was Iechyd-Da by The Alan Price Set. Son thème musical a été Iechyd-Da par le prix fixé Alan. This instrumental was written by John Walters then a member of Alan Price's Set but later famous as John Peel's producer at Radio One. Ce rôle a été écrit par John Walters, puis membre de Price Set Alan mais plus tard célèbre comme John Peel producteur à Radio One. The smallest of the radio ships, 270's Oceaan 7 was the only one to raise its anchor and steam back into port to collect supplies. Le plus petit des navires de radio, 270 de Oceaan 7 a été le seul à soulever l'ancre et de la vapeur de retour dans le port pour collecter des fournitures. Initially Guy only stayed with 270 for three months. Initialement Guy ne suis resté à 270 pendant trois mois. He left in March 1967 to work in advertising but he also made a couple of short return trips to the ship during holidays from the new job. Il est parti en Mars 1967 à travailler dans la publicité, mais il a également fait quelques allers-retours à court à bord du navire pendant les vacances de l'emploi. With 270's closure, he continued his career in advertising while still doing the odd bit of DJ work on the side. Avec 270 de la fermeture, il poursuit sa carrière dans la publicité tout en continuant à faire le peu bizarre de travail de DJ sur le côté. By the time commercial radio had become established in the late seventies he was running one of the biggest airtime sales companies in the country, while still finding time to look after the occasional holiday relief DJ stint on one or other of his client stations (Radio Orwell, Piccadilly Radio, Radio Hallam, Radio 210, BRMB and others). Par la radio commerciale de temps s'était établie dans la fin des années septante, il courait un des ventes de temps d'antenne plus important des entreprises dans le pays, tout en trouvant le temps de s'occuper de l'allégement de vacances passage occasionnel DJ sur une ou l'autre de ses postes clients (Radio Orwell , Piccadilly, Radio Hallam, Radio 210, BRMB et autres). In 1981 he became the first Managing Director of Wiltshire Radio. En 1981, il est devenu le premier directeur général de Radio Wiltshire. Real name Gerry Zierler, he now runs his own television airtime sales company, Zierler Media which represents around twenty TV channels across the UK and Europe. Vrai nom Gerry Zierler, il dirige maintenant sa propre temps d'antenne de télévision ventes de l'entreprise, Zierler Media qui représente une vingtaine de chaînes de télévision au Royaume-Uni et en Europe. There is a short recording of Guy on Radio Essex in David Sinclair's tape collection . Il ya un court enregistrement de Guy sur Radio Essex dans la bande de collecte David Sinclair . There are some more recent photos of Guy, taken at the Radio Academy Celebration of Offshore Radio in August 2007, here . (Many thanks to Guy/Gerry for updating us and for his kind comments: "congratulations on a great website... all power to your elbow" He has also generously provided some fascinating pictures from his personal photo collection , some memories of Radio 270 and some great recordings. In August 2005 he organised a reunion boat trip out to Radio Essex's old fort, Knock John, to mark the station's fortieth anniversary and has very kindly provided some fantastic photos of the event.) Il ya quelques dernières photos de Guy, prises à l'Académie Célébration Radio de Radio Offshore en août 2007, ici :. nombreux (merci à Guy / Gerry mise à jour pour nous et pour ses commentaires genre "félicitations pour un grand site Web ... tous les pouvoir de votre coude "Il a aussi généreusement fourni des images fascinantes de son personnel Collection de photos , quelques souvenirs de Radio 270 et quelques grands enregistrements. En août 2005, il a organisé une excursion en bateau regroupement vers le vieux fort Essex Radio, Knock-Jean, à l'occasion de du quarantième anniversaire de la station et a très gentiment fourni quelques fantastiques photos de l'événement.)
Guy Hamilton on Essex Goes Pop on Radio Essex one evening in August 1966. Guy Hamilton sur Essex Goes Pop sur Radio Essex un soir d'août 1966. This clip is part of a longer recording available to members from The Offshore Radio Archive (duration 3 minutes 21 seconds) Ce clip fait partie d'un enregistrement plus long à la disposition des membres de la Radio Archives Offshore (durée 3 minutes 21 secondes)
Guy Hamilton on Musical Magazine on BBMS one Sunday afternoon in late 1966 (duration 4 minutes 14 seconds) Guy Hamilton, le Magazine de musique sur une BBMS dimanche après-midi à la fin de 1966 (durée de 4 minutes 14 secondes)

Guy Hamilton closing down Radio 270 for the last time before leaving the station in March 1967 (duration 38 seconds).

Guy Hamilton fermeture de Radio 270 pour la dernière fois avant de quitter la station en Mars 1967 (durée 38 secondes).

With many thanks to the man himself for this and the BBMS recording.

Avec un grand merci à l'homme lui-même pour cela, et l'enregistrement BBMS.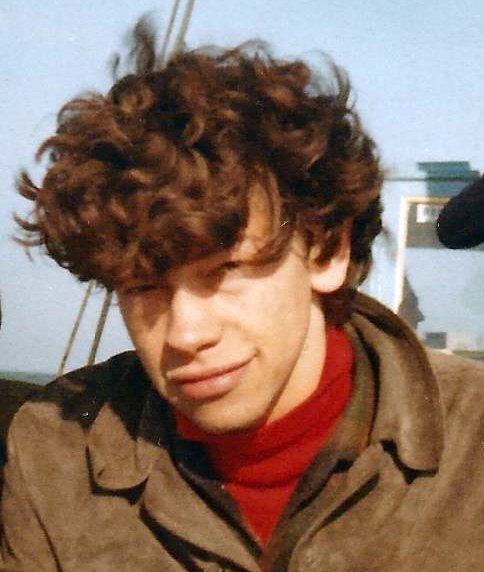 Adrian Love Born in York on 3rd August 1944, Adrian was the son of band leader Geoff Love. Adrian Love Né à York le 3 août 1944, Adrian était le fils du chef d'orchestre Geoff Love. After finishing his education his first job was working in a tailor's shop but he did not stay long. Après avoir terminé ses études son premier emploi travaillait dans une boutique de tailleur, mais il n'est pas resté longtemps. He then joined the music business, dealing with artist management and music publishing. Il rejoint ensuite le monde de la musique, qui traite de la gestion d'artistes et d'édition musicale. He also played bass in various jazz bands and a symphony orchestra before applying for a job with Radio City in 1966. Il a également joué de la basse dans divers groupes de jazz et un orchestre symphonique avant de postuler pour un emploi à Radio City en 1966. Despite his lack of broadcasting experience, the station gave him a chance and Adrian ended up presenting the Breakfast Show from the "tower of power." When City closed down he moved to the BBC Light Programme, then the World Service and, for a while, ran the United Biscuits Network, a factory radio station which employed a number of former pirate DJs. Malgré son manque d'expérience en radiodiffusion, la station lui a donné une chance et Adrian a fini par présenter un spectacle de petit déjeuner dans la «tour de force." Quand la ville a fermé, il s'installe à la BBC Light Programme, le Service mondial et, pendant un certain temps , a dirigé le réseau de United Biscuits, une station de radio en usine qui employait un certain nombre d'ex-DJ pirate. London's LBC launched in 1973 and, shortly afterwards, Adrian joined to present a phone-in show. LBC de Londres a lancé en 1973 et, peu de temps après, Adrian rejoint à présenter une émission de ligne ouverte. From there he moved to Capital Radio. De là, il déménage à Capital Radio. He was later heard on BBC Radios One and Two, British Forces Broadcasting, County Sound, Jazz FM, Classic FM and BBC Southern Counties Radio. Il a ensuite été entendu sur la BBC Radio One et deux, les forces britanniques de radiodiffusion, dans le comté Sound, Jazz FM, Classic FM et la BBC Radio comtés du sud. In 1998 he was involved in a serious car accident and, although he survived the crash, his health was never the same again and he died in March 1999. En 1998, il a été impliqué dans un grave accident de voiture et, bien qu'il ait survécu l'accident, son état de santé n'a jamais été la même chose et il est mort en Mars 1999. There is an obituary on the BBC web-site. Il ya une notice nécrologique sur la BBC web-site. In 2007 he was inducted into the Radio Academy Hall of Fame . (Thanks to James Pringle for some of the information above. This photo dates from Adrian's time with Capital Radio. Does anyone have a picture - or more audio - from his pirate past?) En 2007, il a été intronisé au Radio Academy Hall of Fame . à James Pringle pour certaines des informations ci-dessus. Ce (photo de dates Adrian temps avec de Capital Radio. Merci Quelqu'un at-il une image - audio ou plus - de son passé de pirate? )
a short extract from an Adrian Love news bulletin on Radio City, December 1966, kindly provided by Harm Koenders of The Offshore Radio Archive (duration 51 seconds) un court extrait d'un bulletin de nouvelles Love Adrian sur Radio City, Décembre 1966, aimablement fourni par Koenders méfaits de La Radio Archives Offshore (durée 51 secondes)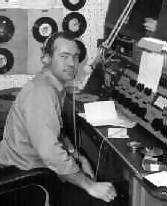 Mark Stevens of "Swinging" Radio England and Ted Delaney of Britain Radio were one and the same person.  
Mark Stevens de "Swinging" Radio Angleterre et Ted Delaney de Grande-Radio sont une seule et même personne. The two stations operated from the same ship and he used a different name, depending on which studio he was broadcasting from. Les deux stations exploitées par le même navire, et il a utilisé un nom différent, selon le studio, il a été la diffusion d'. Neither was his real name. Ni était son vrai nom. To his family and friends he was Ron Rose. Pour sa famille et ses amis, il a été Ron Rose. He joined the ship in autumn 1966. Il a rejoint le navire à l'automne 1966. Not much was known about him until recently but a Norwegian fan, Svenn Martinsen, has been carrying out extensive research and, with the help of Eric Gilder, has discovered the following: Mark/Ted/Ron was 33 years old when he joined Radio England in 1966. Pas grand chose a été connue de lui jusqu'à ce que récemment, mais un fan norvégienne, Svenn Martinsen, a mené des recherches approfondies et, avec l'aide d'Eric Gilder, a découvert le texte suivant: Mark / Ted / Ron avait 33 ans lorsqu'il s'est joint à Radio-Angleterre en 1966. An American, he had previously worked as a broadcaster in California and Oregon. Un Américain, il avait déjà travaillé en tant que diffuseur en Californie et en Oregon. He had also served as a police officer for a couple of years while living in Redding, California. Il avait également servi comme un agent de police pour un couple d'années tout en vivant à Redding, en Californie. His broadcasting history included spells as a DJ at KSDA, KPAP and KAHR, all in Redding. Son histoire de la radiodiffusion inclus sorts en tant que DJ au KSDA, KPAP et Kahr, le tout dans Redding. At this last station he was also Production and Copy Manager, then Program Director, Senior Announcer and Chief Engineer. À ce dernier poste, il a également la production et Copy Manager, puis directeur du programme, principal animateur et ingénieur en chef. Between 1959 and 1961, he had also worked at KBOY in Medford, Oregon. Entre 1959 et 1961, il avait également travaillé à KBOY à Medford, Oregon. When Radio England closed down in November 1966, he stayed on to work just on Britain Radio - but not for long. Lorsque Radio Angleterre fermé ses portes en Novembre 1966, il est resté à travailler seulement sur la Grande-Bretagne Radio - mais pas pour longtemps. What happened to him next? Qu'est-ce qui lui est arrivé ensuite? We don't know. Nous ne savons pas. It is thought he returned to California but, if anyone can supply further information about Mark/Ted/Ron, both his former colleagues and The Pirate Radio Hall Of Fame would be delighted. On pense qu'il retourne en Californie, mais, si quelqu'un peut fournir des informations complémentaires à propos de Mark / Ted / Ron, ses deux anciens collègues et The Pirate Radio Hall Of Fame en serions ravis. Please get in touch . (This photo is courtesy of Look Boden. More of Look's pictures can be found here . Many thanks to Svenn Martinsen and Eric Gilder for their help in compiling the above. More of Svenn's research into Radio England, Britain Radio and the other stations that broadcast from the Olga Patricia/Laissez-Faire can be found at www.northernstar.no/olgapatricia1322845.html .) S'il vous plaît entrer en contact . (Cette photo est une gracieuseté de Look Boden. Plus d'Images Rechercher peut être trouvé p;sl=auto&tl=fr&u=http://www.offshoreradio.co.uk/album13.htm&prev=_t&rurl=translate.google.fr&usg=ALkJrhhvPCZPDHKNuoaWrT4ZGnzMWq6oSg"> ici . Un grand merci à Svenn Martinsen et Eric Gilder pour leur aide dans la compilation de ce qui précède. Plus de la recherche Svenn en Radio en Angleterre, la Grande-Bretagne de radio et de les autres stations qui diffusent de l'Patricia Olga / Laissez-Faire peut être trouvé à www.northernstar.no/olgapatricia1322845.html .)

Ted Delaney on Britain Radio, Christmas Day 1966.

Delaney Ted sur Radio-Bretagne, le jour de Noël 1966. This clip is part of a longer recording available from The Offshore Radio Archive (duration 1 minute 38 seconds) Ce clip fait partie d'un enregistrement plus long disponible auprès de la Radio Archives Offshore (durée 1 minute 38 secondes)


Mark Stevens reading a news bulletin on "Swinging" Radio England.

Mark Stevens lecture d'un bulletin de nouvelles sur "Swinging" Radio Angleterre.

Recording kindly provided by Martyn Webster (duration 2 minutes 18 seconds)

Enregistrement aimablement fournies par Martyn Webster (durée 2 minutes 18 secondes)