29
Mar
29 mars 1945: Roger Day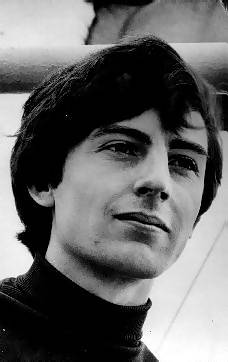 Roger Day Born 29th March 1945 in Cheltenham, Gloucestershire, Roger was living in Kent during the sixties.
Roger Day Née le 29 Mars 1945 à Cheltenham, Gloucestershire, Roger vivait dans le Kent au cours des années soixante.
According to the Kent Musicbiz web site, Roger's first brush with fame came with an appearance on Southern TV's Pop The Question music quiz, hosted by Muriel Young in 1965.
Selon le Kent MusicBiz site web, d'abord pinceau Roger est venu à la célébrité avec une apparition dans le sud TV Pop The Music Quiz Question, organisé par Muriel Young en 1965.
By the following year he was working as an accountant by day and part-time DJ at night. Dave Cash told Roger that some Americans were in London, recruiting for a new radio station.
L'année suivante, il travaillait comme comptable par jour et à temps partiel DJ la nuit. Dave Cash a dit Roger que certains Américains ont été à Londres, le recrutement d'une nouvelle station de radio.
He went to see them and was invited to join "Swinging" Radio England. Il est allé les voir et a été invité à rejoindre "Swinging" Radio Angleterre. One of the original team on day one, he was the only one to survive until the station closed down a turbulent six months later. Un de l'équipe d'origine le premier jour, il a été le seul à survivre jusqu'à ce que la station a fermé six mois plus tard turbulent. After a few months playing records in boxer Billy Walker's Uppercut Club , he joined Caroline South in July 1967. Après quelques mois en jouant à des enregistrements dans boxeur Billy Walker Uppercut Club, il rejoint Caroline du Sud en Juillet 1967. Known as "Roger 'Twiggy' Day, your thinner record spinner", he opened every show with his catch-phrase "Hi, hello, how are you?" His theme tune was Green Grass by The Ventures. Connu sous le nom «Roger Twiggy 'Day', votre dossier spinner plus mince", il a ouvert tous les spectacles avec son slogan "Salut, bonjour, comment vas-tu?" Sa chanson thème a été Green Grass par The Ventures. Roger was on board the Mi Amigo on the day the ship was towed away by creditors in March 1968. Roger était à bord du Mi Amigo le jour où le navire a été remorqué par les créanciers de Mars 1968. He then worked for Radio Luxembourg before returning to the water with Radio Northsea International. Il a ensuite travaillé pour Radio Luxembourg avant de retourner à l'eau avec Radio Northsea international. (See The Pirate Radio Hall Of Fame 'Seventies Supplement' .) He has since been heard on Piccadilly Radio in Manchester, BRMB in Birmingham, Radio West in Bristol, Invicta in Canterbury, Pirate-FM Cornwall, Jazz-FM London and County Sound Guildford, among others. (Voir The Pirate Radio Hall Of Fame "Seventies Supplément" ). Il a depuis été entendu sur Radio Piccadilly à Manchester, BRMB à Birmingham, Radio West, Bristol, Invicta à Canterbury, Pirate-FM Cornwall, Jazz-FM London et le comté de Sound Guildford, entre autres. In June 2003 Roger started presenting regular programmes on the satellite version of Radio Caroline but had to stop doing regular programmes when he joined Birmingham's Saga (now known as Smooth Radio). En Juin 2003 Roger a commencé à présenter régulièrement des programmes sur la version satellite de Radio Caroline , mais a dû arrêter de faire les programmes réguliers quand il a rejoint la Saga Birmingham (maintenant connu sous le nom Smooth Radio). Since then he has moved to BBC Radio Kent where he currently presents a weekday evening show. Depuis, il a déménagé à la BBC Radio Kent où il présente actuellement un spectacle le soir en semaine. This can also be heard on other BBC stations in the south, covering Surrey, Sussex, Hants, Oxford and Berkshire. Cela peut également se faire entendre sur les stations de la BBC d'autres dans le sud, couvrant Surrey, Sussex, comté de Hants, Oxford et du Berkshire. Roger's web site is at www.rogerday.co.uk . web site Roger est à www.rogerday.co.uk . For more photos and recordings, check out Spotlight On Roger Day and this photo album . Pour plus de photos et des enregistrements, consultez Pleins feux sur Roger Day et cette album photo . In March 2004 Roger organised Caroline's fortieth birthday party. En Mars 2004, Roger organisé la fête de Caroline quarantième anniversaire. There are pictures of the event here . Il ya des photos de l'événement ici . Pictures of the 45th birthday party, five years later, are here . Photos de la soirée 45e anniversaire, cinq ans plus tard, sont ici . He has also written about his memories of joining his first station for our feature on Radio England and Britain Radio and we have some pictures taken at their 40th anniversary reunion and the Radio Academy Celebration of Offshore Radio . (Many thanks to Roger for his help.) Il a également écrit sur ses souvenirs de rejoindre son premier poste pour notre fonction sur Radio Angleterre et la Grande-Bretagne Radio et nous avons quelques photos prises lors de leur réunion du 40e anniversaire et la Radio Academy Célébration du Offshore Radio . (Un grand merci à Roger pour son aide. )
Roger Day in manic mode on an evening show from "Swinging" Radio England in September 1966.

Roger Day en mode maniaque sur un spectacle en soirée à partir de "Swinging" Radio en Angleterre en Septembre 1966.

Tape kindly provided by Stuart Russell (duration 1 minute 49 seconds)

Tape aimablement fournies par Stuart Russell (durée 1 minute 49 secondes)


Roger Day almost a year later, at the end of August 1967, presenting the 3-6pm show on Radio Caroline South International.

Roger jour près d'un an plus tard, à la fin du mois d'août 1967, présenter un spectacle de 3-18 heures sur Radio Caroline du Sud international. This tape courtesy of Ray Andrews (duration 2 minutes 53 seconds) Cette courtoisie bande de Ray Andrews (durée 2 minutes 53 secondes)