01
Sep
Norman Barrington
Norman Barrington on the Mi-Amigo 1973
Norman Barrington on the Mi-Amigo 1974
(Norman Barrington Archive)

Audio: Suzy Waffles
Norman Barrington s'attaque à la célèbre Radio Mi Amigo-Gaufres avec Suzy un "cut-up" Kenny Everett voix sur l'origine pour pour Kentucky Fried Chicken

Norman Barrington a été réemployés sur le navire par Tack Sylvian pour Radio Mi Amigo-après avoir été renvoyé de Caroline pour faire un Jingle qui bouleversent Ronan
Norman Barrington playing his favorite jingles in the Radio Seagull studio anchored in the Waddenzee 8 miles from Harlingen.

Norman Barrington (also known briefly as Norman Barrington-Smythe - an Andy Archer joke. He thought it made the name sound even posher). Born in Walthamstow, London E17, in 1952, Norman was at boarding school in Hampstead, London, during the offshore hey-day of the sixties. Although fascinated by radio, 1968 saw him start work in merchant banking in the City. During this period, he followed the Caroline developments and when, in 1972, he heard it was about to return to the air, he grabbed the moment, made a demo tape (rock show format) and visited the Caroline office in Holland. The boss, Chris Cary (also known as DJ Spangles Muldoon) was suitably impressed and gave him a job. Norman's first show was on 3rd January 1973. As well as broadcasting on Radio Caroline, Radio Seagull and the English service of Radio Mi Amigo (whose broadcasts in Flemish during the day financed the ship) he was also studio engineer when Radio Veronica temporarily broadcast from the Mi Amigo in April 1973. It was Robin Adcroft, Bob Noakes and Norman who erected the final sections of the ill-fated aerial mast which fell down in October 1973. The original team had given up on the job two sections from the top, leaving it in a very precarious state. Seeing the situation, the three volunteered their services. It was Norman and Mike Hagler who masterminded the Caroline Stonehenge event of Mid-Summer's Day 1974. This later turned into an annual occurrence, without Caroline's involvement, although, sadly, the later events were not as peaceful. Norman left the Mi Amigo in August 1974. The following year he married his Dutch girlfriend, Door, and moved to Scotland. More recently, in 1994 and 1995, Norman was heard on a local restricted service station. In 1997 this became a fully fledged station, Waves Radio. Additionally, from 1997-2002, he joined forces with his former Radio Caroline colleague Brian Anderson, based near Inverness, where he produced and presented bi-lingual music shows for China, Mongolia and Vietnam. Norman attended the Caroline fortieth birthday party in April 2004 and is pictured here. Norman has a twin web site, one half concentrating on jingles and one on his Caroline career. The above biography is partly based on information from the latter. (Our thanks to Norman for his help and for permission to use the photo and audio from his web site.)
Norman Barrington opening Radio Seagull for the night at 9pm on 13th September 1973. This is just a small part of a 78 minute studio recording available as a download from normanb.com (duration 3 minutes 44 seconds)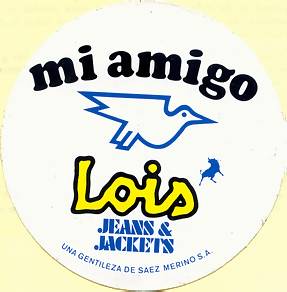 A Radio Mi Amigo/Lois Jeans car sticker.
Norman Barrington playing jingles in the Radio Seagull studio 2 on board the lightship Jenni Baynton anchored 8 miles of the coast at Harlingen, Friesland in the Netherlands.