21
Oct
Octobre 1965: Jim Murphy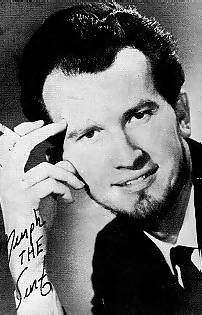 Jim Murphy Born in Beeville, Texas, on Easter Sunday 24th March 1940, "Murf The Surf" grew up in Tuleta, a small town between San Antonio and Corpus Christi.
Jim Murphy Né en Beeville, Texas, le jour de Pâques Dimanche 24 Mars 1940, "Murf Le Surf" a grandi dans Tuleta, une petite ville entre San Antonio et Corpus Christi.
His hobby was 'pole squatting' and once spent 49 days up a pole! Son passe-temps était «accroupi pôle» et une fois passé 49 jours sur un poteau! He worked on a number of Texan radio stations, including KAML, WAKY, KILT and KIBL before heading for Europe in 1965. Il a travaillé sur un certain nombre de stations de radio texane, y compris KAML, Waki, kilt et KIBL avant de partir pour l'Europe en 1965. Jim was on his way to Spain but stopped off in England and never got any further. Jim était sur son chemin vers l'Espagne, mais s'est arrêté en Angleterre et n'a jamais été plus loin. After a brief stint on Radio Caroline South, he moved to the North ship and it was there that he made his name, particularly with his Midnight Surf Party and Country & Western Jamboree . Après un bref passage sur Radio Caroline du Sud, il s'est déplacé à bord du navire du Nord et c'est là qu'il s'est fait un nom, notamment avec son Parti Midnight Surf et Jamboree Country & Western. This latter show was taken over by Don Allen when Jim returned to the States in 1966. Ce spectacle-ci a été repris par Don Allen quand Jim est retourné aux États en 1966. He continued to work in broadcasting but, following his retirement for medical reasons in 1990, lived in Austin, Texas, and operated a fascinating web site dedicated to the memory of Radio Caroline North. The Pirate Radio Hall of Fame exchanged a number of emails with him until these suddenly stopped. Il a continué à travailler dans la radiodiffusion, mais, après sa retraite pour des raisons médicales en 1990, a vécu à Austin, au Texas, et exploite un site Web fascinant dédié à la mémoire de Radio Caroline du Nord. The Pirate Radio Hall of Fame échangé un certain nombre de courriels avec lui jusqu'à ce que ces soudainement arrêté. His web-site was not updated after September 1998 and some of his former colleagues feared the worst. Son site web n'a pas été mis à jour après Septembre 1998 et certains de ses anciens collègues craignaient le pire. One of them, David Williams , confirmed these fears when he found this record of Jim's death on the web. L'un d'eux, David Williams , a confirmé ces craintes quand il a découvert ce dossier de la mort de Jim sur le web. David says: "Sadly it would appear that Jim died in June 2000. David dit: "Malheureusement, il semblerait que Jim est mort en Juin 2000. No further information is available but I know, when I talked to him in 1998, that he was incapacitated with some long standing illness contracted when serving in Vietnam. Aucune autre information n'est disponible, mais je sais que, quand je lui ai parlé en 1998, qu'il était frappé d'incapacité avec certaines maladies de longue durée contractés au moment de servir au Vietnam. He was an eccentric (who else can claim a world record for sitting on top of a pole?) and I have fond memories of him and particularly remember being fog bound at Blackpool airport while trying to get back to the Isle Of Man for Mick Luvzit's wedding. Il était un excentrique (qui d'autre peut demander un record du monde pour s'asseoir sur le sommet d'un poteau?) Et j'ai de bons souvenirs de lui et me souviens particulièrement de brouillard étant lié à l'aéroport de Blackpool, tout en essayant de revenir à l'île de Man pour Mick Luvzit de de mariage. We made it with minutes to spare." Many thanks to David for passing on this sad news. Nous l'avons fait avec les minutes à perdre. "Un grand merci à David pour la transmission de ces tristes nouvelles. Jim's web site has now been retrieved and preserved by Chris and Mary Payne. Jim site web a été prélevés et conservés par Chris et Mary Payne. He was obviously very proud of the time he spent on Radio Caroline. Il était évidemment très fier du temps qu'il a passé sur Radio Caroline. Let's hope that, during the last few years of his life, the feedback he received via the site reminded him just how much he was appreciated by the listeners. Espérons que, au cours des dernières années de sa vie, il a reçu des commentaires sur le site lui rappelait à quel point il était apprécié par les auditeurs.
Jim Murphy ending a Midnight Surf Party on Radio Caroline North in October 1965. Jim Murphy mettre fin à un Midnight Surf Party sur Radio Caroline du Nord en Octobre 1965.

The "cruise" along the coast, referred to by Jim, never took place because of bad weather (duration 2 minutes 34 seconds)

La «croisière» le long de la côte, cité par Jim, n'a jamais eu lieu en raison du mauvais temps (durée de 2 minutes 34 secondes)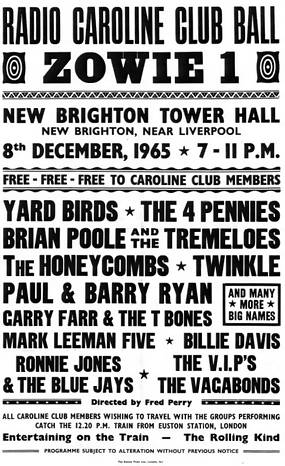 Thanks to Colin Nicol for this poster advertising a Caroline Club Ball in New Brighton.
Merci à Colin Nicol pour cette affiche annonçant un Caroline Club Ball à New Brighton.
What a great line-up.
Qu'est-ce qu'un grand line-up.
On the bill was a singer called Ronnie Jones who cut a record produced by Radio Caroline boss Ronan O'Rahilly.
Sur le projet de loi était un chanteur appelé Ronnie Jones qui a coupé un disque produit par Radio Caroline patron Ronan O'Rahilly.
Ronnie is still singing and is now based in Italy.
Ronnie est toujours le chant et est maintenant basé en Italie.
More details can be found on his web site www.ronniejones.it .
Plus de détails peuvent être trouvés sur son site web www.ronniejones.it .